We all have heard of LAN/WLAN (Wireless Local Area Network), MAN (Metropolitan Area Network), and WAN (Wide Area Network). Maybe you have also heard about PAN (Personal Area Network). Today. let's know more about BAN / WBAN – Wireless Body Area Network.
What is BAN?
This is a network of multiple interconnected devices worn or implanted in a human's body. These devices include monitoring devices such as pacemakers or BP monitors. Such a network typically includes a smartphone which acts as a mobile hub to collect data from wearables and implants and push it to a central repository to process/ analyze further.
Now you probably can guess one of the biggest beneficiaries of BAN/WBAN – medical field! Patients can be equipped with wearable monitoring devices and a smartphone. Then the medical team can monitor the patient's health from a single location. This technology comes handy for remote monitoring or could also be extremely useful during a medical emergency where a small group of medics needs to monitor a large number of patients.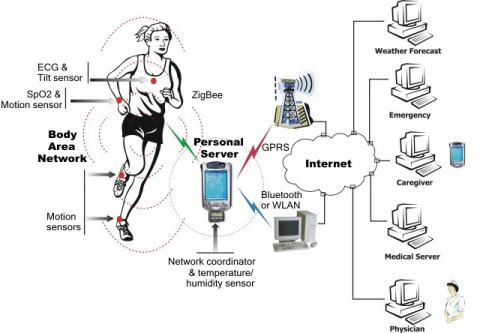 So is this a standard terminology?
Yes, there's an IEEE standard 802.15.6 defined for WBAN from Healthcare point of view.
It is a standard for short-range, low power, and highly reliable wireless communication in, on and around human body.

[Source: IEEE website – http://ieeexplore.ieee.org/document/7581523/]
BAN network cannot just monitor the human body, but can also initiate action. e.g. Insulin can be injected automatically into a diabetic patients body if the BAN detects lower levels of insulin in the body.
In some other use cases, a sports person can create BAN to gather data about her performance and subsequently make improvements to her game.
Some concerns about BAN/WBAN
Since this is a mobile network, which moves along with the human, security of the data becomes an important consideration. WBAN also needs to ensure that the data is collected from correct human even if there are multiple humans in the vicinity.
Privacy – this could be treated as an invasion of privacy and it is utmost important to obtain consent from the human to create and use BAN around his/her body.
Data management – data collected using such close monitoring is going to be humongous and hence needs to be managed well.
Related Links
Related Keywords
LAN, WAN, MAN, WLAN, RFID,